Odyssey Engineering has decades of experience in getting a plastic part designed that will hold tolerances, be easily molded, has superior ergonomic properties, passes all fit and strength tests and gets that tough job out the door.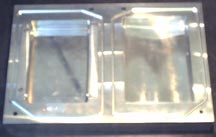 Have you ever been so close to a problem that you couldn't see the answer. We can see the answers.
At some point, you need to realize that after building the same mold 3 times, it just isn't going as planned. That's where Odyssey Engineering can step up and get the job done. We have built some of the most difficult molds and complex parts for some very demanding customers. Many of our jobs are the overflow and problem parts from a much larger job. The primary contractor looks at the 20 molds he can easily build, and sends us the 6 molds that he can't build. They have learned the value of knowing what can easily be built in-house, and sending off the harder molds to someone who specializes in them, Odyssey Engineering.