Odyssey Engineering has the ability to produce the most complex drawings with the quickest turnaround available. Drawings can be sent to you the next business day, and an SLA part delivered 1-2 days later. Think of the ability to decrease time to market for a new line product. Prototype SLA parts delivered in 2-4 business days, and an injection molded plastic part delivered in less than a week. There is no quicker way to get a first version SLA prototype and a real plastic part to pass first article inspection. E-mail for rates on the most rapid prototyping services around.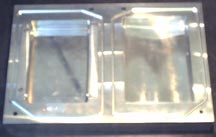 Get that part quicker than you ever thought possible.
Odyssey Engineering will get your part out the door in days.